Finding it hard to understand finance? Overcome your fear of accounting once and for all...
Course Overview
This workshop is designed to give non-financial senior executives the skills to excel in their financial responsibilities. No previous financial qualifications are required. Whether you face increasing financial accountability, realise the need to communicate more strategically with your finance department and board of directors, or would like to move into a more senior management position with enhanced financial responsibility, you must attend this course!
Course Objectives
The key objective is to equip non-accounting participants with concepts and practical skills to better interpret and analyse financial information from a user's perspective. At the end of the course, participants will be able to better:
Meet management, board of directors and shareholders' demands for financial accountability
Determine the financial impact of business decisions
Understand how to impact the bottom line of a business
Analyse strength, performance and cash flows of companies
Focus on critical financial indicators for decisive management
Identify financial red flags and take preventive action to safeguard your company's interest
Manage and account for your budgets better
Demystify and use financial terms with confidence
As a company Director, CEO or Head of Department, having the ability to interpret and understand financial numbers churned out by the accounting department is absolutely indispensable. If accounting numbers confound you, you will demystify them once and for all in this workshop and turn it from a stumbling block into a stepping stone for your career and business success.
Thousands have learnt to read financial statements painlessly through James Leong, so could you.
"James makes all the financial concepts seem so simple to understand. You wonder why you've not attended his course earlier! James is a very effective trainer that comes with a great sense of humour too."
Chorina Khoo, Director - Training & Personnel Development, Asia Regional Office, Expeditors International of Washington, Inc.
"James is the best teacher I have come across. I thoroughly enjoyed his techniques and style."
Linda Fulford, Managing Director, Fulford PR
"The pace and simplicity in presenting a dry and extremely difficult subject is most enjoyable-kudos to a great teacher!"
Evon Estrop, Director, Orientations
"Wonderfully empowering and informative. Painless."
Geri Murphy, Founder, Originals
"Extremely clear in delivering the content and reinforcement throughout. James brought "LIFE" to finance and accounting. The program content is very well planned out. Demonstrated James' depth and quality of skill sets. The last part on "application" is extremely helpful and applicable."
Christee Tee, Director of Marketing, Asia Pacific, Avocent
For more testimonials from our clients and participants, please visit www.visions1.com.sg.
Date:
2 & 3 Jun 2016
Time:
9am to 5pm
Venue:
VisionsOne Success Campus
116 Changi Road,
#03-08 WIS@Changi,
Singapore 419718
(Near Paya Lebar Hub)
Workshop Fees:
Super Early Bird: $1,296 I $518.40*
Early Bird: $1,396 I $558.40*
Regular: $1,496 I $598.40*
*After PIC grant of 60%
Super Early Bird expires 3 May 2016
Early Bird expires 18 May 2016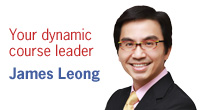 James is a strategic learning partner to Singapore's top financial institutions, leading blue chip public listed companies and has trained with many institutions of higher education such as Singapore Management University, Singapore Institute of Management, the Institute of Chartered Accountants in Australia, Victoria University of Technology and Duke Corporate Education.He has presented regularly at professional forums, continuing professional education training, appeared on radio and investor education webcasts. The Singapore Business Review has also featured him as one of ten influential professional speakers in Singapore.