Master Trainer recommends: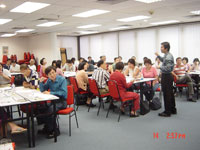 This is a half-day workshop that has been developed and offered to members of SIAS (Securities Investors Association of Singapore). This crash course focuses on analysing an annual report for investing purposes. An intermediate level course is also available and offered jointly with SIAS. You can request to customise this programme for your in-house training needs. An intermediate programme is available as an excellent follow-up for skills upgrading.



Why is this programme unique?
James Leong is a pioneer in making complex financial information in the annual report assessable to non-finance people with his simple, jargon-free and intuitive teaching style. James Leong introduced the first course in Singapore jointly with SIAS that uses the annual report as a key teaching tool to non-finance people before it became popular.