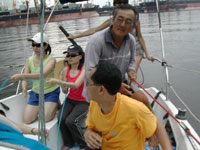 Tired of having the usual type of teambuilding games each time? Have enough of predictable, standard high and low elements activities?
For a refreshing twist to your next teambuilding event, have us customise a fun and novel experience which stimulates and challenges your team at the same time.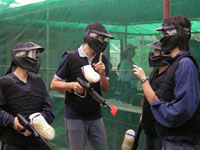 For a rush of adrenalin, ask for our speed, action and strategy activities. For a change of scenery, we plan team bonding activities that take place in settings as diverse as corporate cooking, fine sand and the open sea. To get to know your teamís collective profile and strengthen group dynamics back at work, request for our enhanced team development package.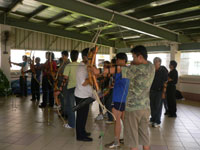 This is a customisable programme designed to meet your specific teambuilding needs. You can tailor it to reinforce company core values, build trust, enhance communication and leadership, resolve conflicts or boost morale and teamwork. Your learning outcomes will determine the activities we developed for the programme. With a balanced mix of indoor/outdoor, high-energy/reflective learning elements, participants are assured of a fun, memorable and exciting event. You can rely on our strong facilitation skills and experience to bring about attitudinal shifts and to develop practical skills. Programme duration is between one to two days and is held at an off-site location of your choice. You can opt for the residential version as well. For regional gatherings, your participants will feel comfortable with us given our experience in facilitating multi-cultural groups. Our events team ensures a smooth and hassle-free gathering for you.